Frasers Hospitality Pte Ltd (FHPL), a Singapore-based serviced apartment operator, is expanding its portfolio in the Indian market. The company, which had already signed up with Bengaluru-based Minerva Group to manage three serviced apartment properties in Bengaluru has recently signed up for three additional properties in India. The serviced apartments will be located in Delhi, Gurgaon and Chennai. All six properties have been signed on management contract basis and the company will manage about 600 units with these properties.
Speaking exclusively with TravelBiz Monitor about the development, Augustine M Silva, COO, Frasers Hospitality stated, "We perceive immense potential in the Indian market for our brands.
The serviced apartment category is a nascent market in India, so the market for branded operators (in this segment) is small. All real estate developers we work with are ones that are foraying into the Indian hospitality sector. However, we chose to work with them due to their knowledge about the serviced apartment format."
The company operates with three brands: Fraser Suites, Fraser Place and Fraser Residence. All three brands are positioned in the five-star segment. Fraser Suites is developed with modern and contemporary designs and properties are located at city centres; Fraser Place is designed with trendy interiors and located at city centre locations in close proximity to entertainment hubs and Fraser Residence aims to provide customised service for its guests.
The Delhi property to be developed under the Fraser Suites brand is located at Mayur Vihar and is coming up under by IFCI Infrastructure Development Limited (IIDL). The Fraser Place property under development in Gurgaon is coming up under the S S Group and the Fraser Residence property at Old Mahabalipuram Road in Chennai is being developed by Plaza Group.
Presently, FHPL is not looking at investments in India; it stated that once the market revives, it will be open to development opportunities and joint ventures. The company's immediate aim is to develop the three brands in the key gateway cities.
It will consider opportunities in Chennai, Delhi, Bengaluru, Hyderabad and Mumbai as well as Tier II locations, like Ahmedabad, Jaipur and Kolkata. "We want to offer an inventory of about 300 to 500 rooms in each of these cities. The target is to double the inventory to about 1200 rooms in the next three years," added Silva.
The company will open three properties, each at the Whitefield and Hebbel sector in Bengaluru and Mayur Vihar in Delhi in 2010. The company intends to open the Delhi hotel in time to cater to the Commonwealth Games 2010. Other properties in Gurgaon, Chennai and Bengaluru will be launched during 2012 and 2013.
FHPL is already in the process of defining its marketing strategy for the Indian market. While it plans to set up sales offices in parts of the country, it aims to develop relationships with its already existent multinational corporate clients to promote new properties.
"We pre-sell our properties before they launch by working with developers to create mock up rooms, informing existing clients through referral programmes and cross-selling the new projects through our established international properties," stated Silva. Besides India, the company has also lined up a strong international expansion plan. It aims to explore new locations like Spain, Portugal and Geneva in Europe.
Travel News from Singapore
-
Best Travel Agency in Singapore
-
-
Travel Place in Singapore
Videos of Travel Places Singapore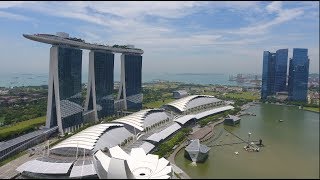 Photogallery of Travel Places in Singapore